Various Scanos components accept BIOLOX® forte, DELTA® or VITOX® ceramic inlays and ball heads. The information, photos and documentation supplied herewith are from either CeramTec AG or Morgan Advanced Ceramics.
Other CeramTec or Morgan options being available we invite you to visit the CeramTec web site at http://www.ceramtec.com or the Morgan Advances Ceramic web site at http://www.morganbioceramics.com/hip.htm for complimentary information or different options available.
Standard Alumina cup inserts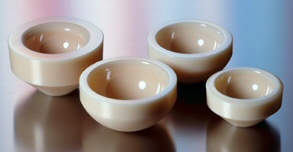 Features offered by our range of acetabular ceramic inserts
Acetabular inserts for Scanos cups are available for femoral heads with diameters of 28, 32 and 36 mm. Insert outside diameters range between 37 and 52 mm
Ceramic ball heads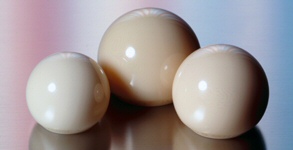 Features of Scanos femoral heads
Available for Scanos femoral components with diameters of 28 mm, 32 mm and 36 mm
Available with 3 different neck lengths
Taper accepted by Scanos femoral components: 12/14 offering a taper angle of 5° (standard taper 1:10 acc. to DIN, Morse taper)
Suited for use with BIOLOX®forte, DELTA® or VOTOX® and UHMW polyethylene/XPE cups
Nowadays standard
The current trend is clearly toward modular prosthesis systems with an acetabular insert made of polyethylene/XPE (Cross Link Polyethylene) or ceramic. The surgeon inserts the acetabular insert into the cup shell during surgery and fixes it in place using the standard fixation concept or a sandwich construction (e.g. PolyLock®).
Ceramic bearings play a significant role in acetabular insert and ball head combinations, Ceramics can be used in combination with equivalent parts or with polyethylene/XPE.
This versatility makes it possible for prosthesis manufacturers to supply implants offering several options. Surgeons are thus able to choose between the materials.
Scanos acetabular and femoral components have opted for all available head-insert combinations.
Taper fitting for ceramic ball heads and ceramic inserts
The success of today's modular hip endo-prosthesis is based on the taper fitting for the ceramic ball heads and ceramic inserts, which makes it easy for the surgeon to affix the ball head on the stem and the insert into the cup housing and allows the possibility of selecting a suitable combination for all indications.
Certain parameters detailed in the following works, must be observed in order to ensure problem-free functioning and maximum safety.
Willmann, G.
Das Prinzip der Konus-Steckverbindung für keramische Kugelköpfe bei Hüftgelenkprothesen
Mat.-wiss. u. Werkstofftechnik 24 (1993), pages 315-319
Cuckler, J. M., J. R. Roberson, J. Lemons, W. L. Sauer, N. B. Beals, P. Kovacs
A Critical Appraisal of the Morse Taper THA: What the Surgeon Needs to Know
A Scientific Exhibit at the AAOS Meeting 1996
Heimke, G.
Safety Aspects of the Fixation of Ceramic Balls on Metal Stems
Bioceramics 6 (1993), pages 283-288
Heimke, G.
The Safety of Ceramic Balls on Metal Stems in Hip Arthroplasty
Adv. Mater. 6 (1994), pages 165-170
Richter, H.G., G. Willmann, K. Weick
Improving the reliability of the ceramic-on-ceramic wear couple in THR, pages 173-185 in: Jacobs, J. J., Th. L. Craig (eds.) « Alternative Bearing Surfaces in Total Joint Replacement » STP 1346, ASTM, WEst Conshohocke, PA, USA 1998
Soltesz, U., H. G. Richter, R. Schäfer
Wechsellast-Prüfungen von Hüftgelenk-Pfannen mit keramischen Einsätzen
Mat. wiss. u. Werkstofftechnik 33 (2002), pages 470-473
Willmann, G., H. Kälberer, H.-G. Pfaff
Keramische Pfanneneinsätze für Hüftendoprothesen Teil 2: Bauteilprüfung und -sicherheit
Biomed. Technik 41 (1996) , pages 284-290
Willmann, G.
Ceramic Inserts for Acetabular Components of THR,
Pages 59-65 in: J. Garino, G. Willmann (eds.) « Bioceramics in Joint Replacement »
Georg Thieme Verlag, Stuttgart, New York 2002
Willmann, G.
CeramTec's Recommendations for Revision when Using BIOLOXforte Femoral Heads, pages 64-66 in: Sedel, L., G. Willmann (ed.) « Reliability and Long-term Results of Ceramics in Orthopaedics »
Georg Thieme Verlag Stuttgart 1999
Clarke, I., G. Willmann
Structural Ceramics in Orthopedics, pages 203-252 in: Cameron, H .U. (ed.) « Bone Implant Interface »
Mosby, St. Louis, Baltimore, Boston, Chicago, London, Madrid, Philadelphia, Sydney, Toronto (1994)
Willmann, G.
« Never mix and match », CeraNews Nr. 5 (1997), pages 5-6
Available documents for downloading
Femoral head brochure
Type of document: brochure
pdf document: size 1 page: 189Ko
Approximate download time: 19 s